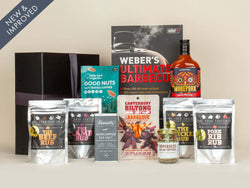 Ultimate BBQ Pack Gift Basket
Discover the ultimate BBQ experience with our Ultimate Gift Box for BBQ Foodies. It's the perfect gift for elevating any barbecue to gourmet levels, packed with artisanal sauces, premium seasonings, and an exclusive BBQ Cook Book.
Weber's Ultimate BBQ Book
Morepork Smoky BBQ Sauce - *GF
Creative Cooking Toppers Superseed Garlic & Rosemary 70g - *GF *V
The Four Saucemen Pork Rib Rub
The Four Saucemen Chicken Rub
The Four Saucemen Lamb Rub
The Four Saucemen Beef Rub

Canterbury BBQ Biltong - *GF
Organic Salted Seaweed Almond or Cheesy Chipotle Cashew Nuts - *GF *V
Bennetts of Mangawhai Chocolate Bar - (Or personalize your gift by swapping this out with a decadent Bennetts Milk Chocolate Message Bar)
Packaged in: A premium black gift box
--
If an item in this gift set becomes unavailable, we will replace it with another item of equal or greater value which matches this gift set theme.
Note: Message Chocolate Bars - *GF
*GF = Gluten Free
Luxury BBQ Gift Box.  Gift Boxes for Him NZ.  Birthday Gift Boxes NZ.  BBQ Gift Boxes NZ.  Christmas Gift Boxes NZ.  Sending Christmas Gift Boxes NZ Wide.  Fathers Day Gift Boxes NZ.