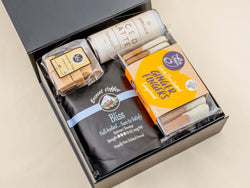 Coffee Lover's Gift Basket
Treat the coffee-loving Kiwi in your life to the perfect gift: Coffee Lover's! Enjoy some of the world's best coffee, all pre-packaged and ready for gifting. Give the gift of an exceptional and unforgettable coffee-drinking experience.
Purecoco Iced Latte - *GF *V
Everest Bliss Espresso Coffee
36 Degrees Handmade Vanilla Fudge - *GF

Molly Woppy Ginger Finger Chocolate Dipped Biscuits
Packaged in: A premium black gift box
--
If an item in this gift set becomes unavailable, we will replace it with another item of equal or greater value which matches this gift set theme.
*GF = Gluten Free
*V = Vegan Friendly
Coffee Gift Boxes NZ.  Online Gift Boxes NZ.  Luxury Gift Boxes NZ.  Mothers Day Gift Boxes NZ.  Fathers Day Gift Boxes NZ.  Care Gift Boxes NZ.  Sending Gift Boxes NZ Wide.  Christmas Gift Boxes NZ.  Affordable Gift Boxes NZ.  Birthday Gift Boxes NZ.