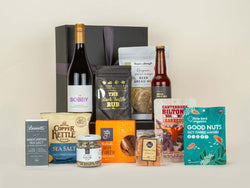 Indulge them in a sumptuous taste of gourmet foods and wine with this gift box!
Features:
Choice of Red or White Wine
Bennetts of Mangawhai Chocolate Bar 60g - (Personalize your gift by swapping out for a decadent Bennetts Milk Chocolate Message Bar)
Flour & Dough Beer Bread Mix
Bottle of Sawmill Beer 
Organic Salt Seaweed Almond Nuts or Cheesy Chipotle Cashew Nuts - *GF *V

Pepper & Me -  Tzatziki' or Onion Dip Mix
Molly Woppy Tasty 'n Cheesy Savoury Sticks
Four Saucement Black Truffle Rub 80g
A packet of Copper Kettle Crisps
Canterbury BBQ Biltong
36 Degrees Handmade Vanilla Fudge
Packaged in: A premium black gift box
--
If an item in this gift set becomes unavailable, we will replace it with another item of equal or greater value which matches this gift set theme.
Note: Message Chocolate Bars - *GF
* DF = Dairy Free
*GF = Gluten Free
*V = Vegan Friendly
Father's Day Gifts New Zealand. Sending Gift Boxes NZ Wide.  Gourmet Gift Box.  Food and Alcohol Gift Boxes NZ.  Christmas Gift Boxes NZ.  Sending Christmas Gift Boxes NZ Wide.  Birthday Gift Boxes NZ.  Celebration Gift Boxes NZ.  Mothers Day Gift Boxes NZ.  Sympathy Gift Boxes NZ.  Corporate Gift Boxes NZ.