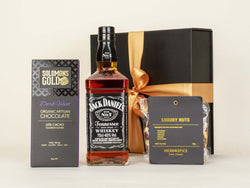 Our classic whiskey gift box impresses every time with its timeless, simple elegance - perfect for a special occasion or just for fun. Let Simply Whiskey be your go-to gift to make an unforgettable impression!
Features:
Bottle of Jack Daniels No 7 

Solomon Gold Dark Velvet Organic Chocolate Bar 85g *DF *GF (Personalize your gift by replacing with a decadent Bennetts Milk Chocolate Message Bar.)
Pack of Luxury Mixed Nuts 100g
Packaged in: A premium black gift box
--
If an item in this gift set becomes unavailable, we will replace it with another item of equal or greater value which matches this gift set theme.
Note: Message Chocolate Bars - *GF
* DF = Dairy Free
*GF = Gluten Free
*V = Vegan Friendly
Father's Day Gifts New Zealand. Sending Gift Boxes NZ Wide.  Gourmet Gift Box.  Food and Alcohol Gift Boxes NZ.  Christmas Gift Boxes NZ.  Sending Christmas Gift Boxes NZ Wide.  Birthday Gift Boxes NZ.  Celebration Gift Boxes NZ.  Whiskey Gift Boxes NZ.  Sympathy Gift Boxes NZ.  Corporate Gift Boxes NZ.