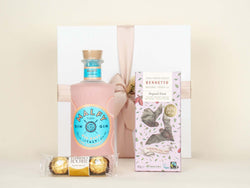 Treat a special someone to a luxurious Simply Rosa gift box, complete with classic Malfy Gin and chocolate — perfect for a special occasion! This exquisite set is sure to provide a beautiful and memorable experience.
Features:
Malfy Sicilan Pink Grapefruit Gin 700ml
Three pack of Ferrero Rochers

Bennetto Chocolate Bar - *GF, *V  (Or personalize your gift by swapping this out with a decadent

 

Bennetts Milk Chocolate Message Bar)
Packaged in: A premium black or white gift box
--
If an item in this gift set becomes unavailable, we will replace it with another item of equal or greater value which matches this gift set theme.
Note: Message Chocolate Bars - *GF
*GF = Gluten Free
*V = Vegan Friendly
Gin Gift Boxes NZ.  Luxury Gift Boxes NZ.  Birthday Gift Boxes NZ.  Mothers Day Gift Boxes NZ.  Valentine's Gift Boxes NZ.  Gift Boxes for Her NZ.  Christmas Gift Boxes NZ.  Sending Premium Gift Boxes NZ Wide.