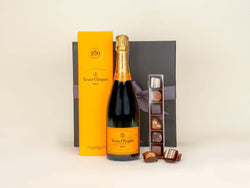 Elevate the Moment: Share this Luxury Gift with Veuve Clicquot Champagne and Handmade Chocolates. Experience the World's Iconic Champagne Brand in Every Sip.

Features:

Veuve Clicquot Brut Yellow Label Champagne 750ml
Handmade Colestown Rose Gold Box of Chocolates - (Or personalize your gift by swapping this out with a decadent

 

Bennetts Milk Chocolate Message Bar)

Packaged in: A premium white or black gift box
--
If an item in this gift set becomes unavailable, we will replace it with another item of equal or greater value which matches this gift set theme.
Note: Message Chocolate Bars - *GF
*GF = Gluten Free
*V = Vegan Friendly
Champagne Gift Hampers NZ.  Champagne Gift Box.  Birthday Gift Boxes NZ.  Celebration Gifts NZ.  Wedding Gift Boxes NZ.  New Home Gift Boxes NZ.  Sending Premium Gift Boxes NZ Wide.  Christmas Gift Boxes NZ.  Birthday Gift Boxes NZ.