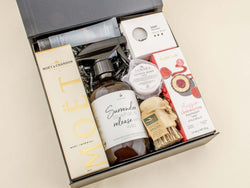 A stunning home gift filled with beautifully scented products.
Features:
Choice of Veuve du Vernay or Moet Chandon 200ml

Santosa Good for Everything Cleaning Spray

Ecoya Hand Cleanser
AromaA Raw Honey Soap
Essentially Tamara Shower Bomb

Go Bamboo Veg Scrubbing Brush

Health Lab Lamington or Hazelnut Balls *GF *V - (Personalize your gift by swapping out with a decadent Bennetts Milk Chocolate Message Bar)
Packaged in: A premium white or black gift box
--
If an item in this gift set becomes unavailable, we will replace it with another item of equal or greater value which matches this gift set theme.
Note: Message Chocolate Bars - *GF
*GF = Gluten Free
*V = Vegan Friendly
New Home Gift Boxes NZ.  Birthday Gift Boxes NZ.  Luxury Gift Boxes NZ.  Mothers Day Gift Boxes NZ.  Sending Premium Gift Boxes NZ Wide.  Christmas Gift Boxes NZ.  Organic Gift Boxes NZ.