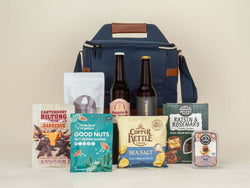 Luxury Picnic Cooler Gift Box
 Picnic days are made perfect with a crisp cold drink and light nibbles.

Personalize your gift by addibng a decadent Bennetts Milk Chocolate Message Bar
Features:
Luxury Navy Cooler Bag with Bottle Opener
Choice of Apple Cider and/or Sawmill Beer
Upcycled Crackers (Fig & Cardamom, Cranberry & Coconut or Raisin & Rosemary) - *V
Fig Fruit Paste - *GF
Organic Salty Almond or Chipotle Cashew Nuts - *GF *V

Harbourside Macadamia Nuts - *V
Pack of Canterbury BBQ Biltong
Packet of Salty Proper Crisps 
If an item in this gift set becomes unavailable, we will replace it with another item of equal or greater value which matches this gift set theme.
Note: Message Chocolate Bars - *GF
*GF = Gluten Free
*V = Vegan Friendly

Sending Gift Boxes NZ Wide.  Gourmet Gift Box.  Food and Alcohol Gift Boxes NZ.  Summer Gifts.  Picnic Gift Baskets.  Luxury Gifts NZ.  Christmas Gift Boxes NZ.  Mothers Day Gift Boxes NZ.  Fathers Day Gift Boxes NZ.  Birthday Gift Boxes NZ.