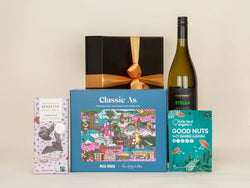 Not just any puzzle!  This gift is truly unique and supports New Zealand's local artists.  Each piece not only fits together to reveal a masterpiece but also champions the exceptional talent of local Kiwi artists. Gift uniqueness, support New Zealand's artistry, and immerse yourself in the true essence of Kiwi creativity

Features:
1000 Kiwi Art Piece Puzzle - *Mixed Variety
Organic Salty Almond or Cheesy Chipotle Cashew Nuts - *GF *V
Bennetto Coffee Chocolate Bar - *GF, *V (Or personalize your gift by swapping this out with a decadent Bennetts Milk Chocolate Message Bar).
Choice to Include: Bottle of Pinot Noir, Sauvignon Blanc, Chardonnay or Moet & Chandon
Packaged in: A premium black gift box
--
If an item in this gift set becomes unavailable, we will replace it with another item of equal or greater value which matches this gift set theme.
Note: Message Chocolate Bars - *GF
*GF = Gluten Free
*V = Vegan Friendly
* A mixed variety of stunning NZ Artist Puzzles selected per gift box.
Father's Day Gifts New Zealand.  Home Gift Boxes NZ.  Birthday Gift Boxes NZ.  Christmas Gift Boxes NZ.  Sending Gift Boxes NZ Wide.  Mothers Day Gift Boxes NZ.  Celebration Gift Boxes NZ.