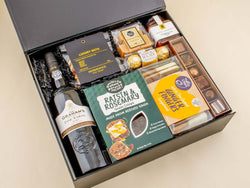 Tawny Port and Treats Gift Box
Tawny Port with some delicious treats to set the scene.

Grahams Tawny Port
Colestown Rose Gold Box Assorted Chocolates - 

(

Personalize your gift by swapping this out for a decadent

 

Bennetts Milk Chocolate Message Bar)

Upcycled Crackers (Fig & Cardamom, Coconut & Cranberry or Raisin & Rosemary) - *V

NZ Tamarillo & Black Raspberry Chutney

36 Degrees Handmade Fudge

 

- 

*GF
Pack of Luxury Nuts

Three Pack Ferrero Rocher

Molly Woppy Chocolate Dipped Ginger Biscuits
Packaged in: A premium black gift box
--
If an item in this gift set becomes unavailable, we will replace it with another item of equal or greater value which matches this gift set theme.
Note: Message Chocolate Bars - *GF
*GF = Gluten Free
*V = Vegan Friendly

New Home Gifts.  Birthday Gift Boxes.  Sending Gift Boxes NZ Wide.  Fathers Day Gift Boxes NZ.  Luxury Gift Boxes NZ.  Christmas Gift Boxes NZ.  New Home Gift Boxes NZ.  Corporate Gift Boxes NZ.