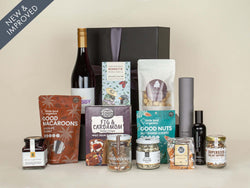 Luxury Food and Wine Hamper Gift Basket
Luxury food and wine goodness!

Features:
Choice of Wine or Bubbles
Harbourside Salted Macadamia Nuts - *V
Bennetto Chocolate Bar - *GF *V (Or personalize your gift by swapping this out with a decadent

 

Bennetts Milk Chocolate Message Bar)
Wild Country Fig & Stonefruit Chutney
Upcycled Crackers (Fig & Cardamom, Coconut & Cranberry or Raisin & Rosemary) - *V
Organic Salt Seaweed Almond Nuts or Cheesy Chipotle Cashew Nuts - *GF *V

Pepper & Me -  Tzatziki' or Onion Dip Mix

Creative Cooking Garlic & Rosemary Toppers - *GF *V
Organic Hazelnut or Strawberry Macaroons - *GF *V
The Confectionist (Hazelnut & Chocolate or Almond & Dark Chocolate Toffee)

36 Degrees Handmade Chocolate or Vanilla Fudge 

- 

*GF
Aromatherapy Co. Reed Diffusers (Palo Santo or Black Raspberry)

Aromatherapy Co. Kitchen Spray (Lemongrass, Lime & Bergamot or Mandarin, Mint & Basil)

Packaged in: A premium white or black gift box
--
If an item in this gift set becomes unavailable, we will replace it with another item of equal or greater value which matches this gift set theme.
Note: Message Chocolate Bars - *GF
* DF = Dairy Free
*GF = Gluten Free
*V = Vegan Friendly
Father's Day Gifts New Zealand. Sending Gift Boxes NZ Wide.  Gourmet Gift Box.  Food and Alcohol Gift Boxes NZ.  Christmas Gift Boxes NZ.  Sending Christmas Gift Boxes NZ Wide.  Birthday Gift Boxes NZ.  Celebration Gift Boxes NZ.  Mothers Day Gift Boxes NZ.  Sympathy Gift Boxes NZ.  Corporate Gift Boxes NZ.