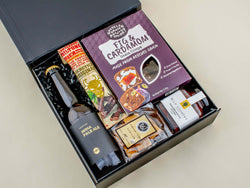 The unique, delightful flavors of New Zealand with Beer Taster. An experience unlike any other, this delectable selection of kiwi-crafted beer taster is a sophisticated and exclusive way to enjoy a variety of brews. 

Personalize your gift by adding a decadent Bennetts Milk Chocolate Message Bar.
Features:
NZ Made Sawmill Beer

Canterbury Meat Stick

Upcycled Crackers (Fig & Cardamom, Raison & Rosemary or Cranberry & Coconut)

NZ Tamarillo & Black Raspberry Chutney

36 Degrees Handmade Vanilla Fudge - *GF

Packaged in: A premium black gift box
--
If an item in this gift set becomes unavailable, we will replace it with another item of equal or greater value which matches this gift set theme.
Note: Message Chocolate Bars - *GF
*GF = Gluten Free
Beer Gift Box.  NZ Made Gifts.  Sending Gift Boxes NZ Wide.  Gifts for Men NZ.  Beer and Snack Gift Boxes NZ.