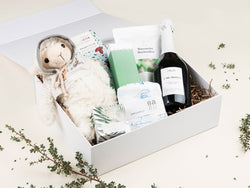 Baby Celebration Gift Basket
A sensational collection of treats to honor new parents and their baby - the ultimate Celebration Box!
Features:
JK14 I Tre Fratelli
Cuddly Hoodie Sheep
Watermelon Marshmallow
2 pack Babu baby burp cloths
Miss Coco Lala Blood Orange Candle
Ecoya French Pear Hand Cream - *V
Bennetto Chocolate Block - *GF *V (Or personalize your gift by swapping this out with a decadent Bennetts Milk Chocolate Message Bar).
Packaged in: A premium white gift box
--
If an item in this gift set becomes unavailable, we will replace it with another item of equal or greater value which matches this gift set theme.

Note: Message Chocolate Bars - *GF
*GF = Gluten Free
*V = Vegan Friendly 
Sending Gift Boxes NZ Wide.  Baby Gift Boxes NZ.  New Baby Gift.