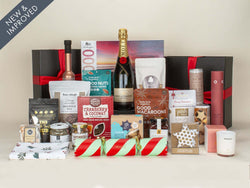 Ultimate Festive Feast Gift Box
A Supremely Luxury Gift Box filled with Festive Feast Goodies!!

Bottle of Soho Mara Rose Brut or Moet & Chandon
Rutherford Upcycled Crackers (Coconut & Cranberry, Fig & Cardamom Or Raisin & Rosemary)
Wild Country Fig & Stonefruit Chutney
Pepper & Me Onion or Tzatziki Dip Mix

Creative Cooking Toppers - Rosemary & Garlic
Four Saucemen Black Truffle Meat Rub
Organic Saly Almond or Chipotle Cashew Nuts - *GF *V

Purecoco Iced Latte or Iced Choc - *GF *V
Harbourside Macadamia Nuts - *GF *V

Handmade Queen of Tarts Mince Pies (6pack) - *GF
36 Degrees Handmade Chocolate Or Vanilla Fudge - *GF
Flour & Dough Beer Bread or Choc Brownie Mix

Molly Woppy Box of Christmas Cookies
Organic Chocolate & Coconut or Strawberry White Choc Macaroons - *GF *V
Bennetts of Mangawhai Chocolate Filled Christmas Cracker 
Luxury Chocolate Pudding with Gold Dust
Tall Pink Gold Vinegar (3yrs aged)
Living Light Pohutukawa Candle

Aromatherapy Blend Diffuser Sticks

Essentially Tamara Luxury Christmas Soap
Christmas Table Conversation Starters
OPTION: 1000 piece Jigsaw Puzzle OR Wallace Cotton Christmas Tea Towel
Packaged in: A premium white gift box
--
If an item in this gift set becomes unavailable, we will replace it with another item of equal or greater value which matches this gift set theme.
*DF = Dairy Free
*GF = Gluten Free
*V = Vegan Friendly
Christmas Gift Boxes NZ.  Christmas Gift Hampers NZ.  Sending Gift Boxes NZ Wide.