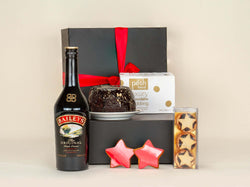 Christmas Decadence Gift Box
Truly a decadent Christmas experience with the perfect pairing of delicious Baileys and Christmas sweet treats.
Features:
Bottle of Baileys 700ml
Chocolate Post Pudding with Gold Dust (serves 4-6)
Handmade Queen of Tarts Mince Pies (6 pack) - *GF
Two Handmade Molly Woppy Christmas Cookies

Packaged in: A premium black gift box
If an item in this gift set becomes unavailable, we will replace it with another item of equal or greater value which matches this gift set theme.
Note: Message Chocolate Bars - *GF
*GF = Gluten Free
*V = Vegan Friendly
Chocolate Gift Boxes NZ.  Chocolate Gift Hamper.  Luxury Gift Boxes NZ.  Sending Gift Boxes NZ Wide.  Christmas Gift Boxes NZ.  Christmas Pudding Gift Boxes NZ.