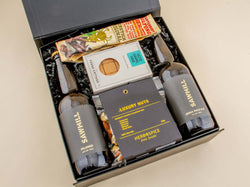 Beer and treats to delight someone special.

Personalize your gift by adding a decadent Bennetts Milk Chocolate Message Bar
Features:
Two Bottles of NZ Made Sawmill Beer

Pack of Luxury Nuts

Fudge Cottage Salted Caramel Fudge - *GF

Canterbury Bierstick - *GF, *H
Packaged in: A premium black gift box
--
If an item in this gift set becomes unavailable, we will replace it with another item of equal or greater value which matches this gift set theme.

Note: Message Chocolate Bars - *GF
*GF = Gluten Free
*H = Halal
Sending Gift Boxes NZ Wide.  Gift Boxes for Him.  Men's Gift Box.  Birthday Gift Boxes NZ.  Fathers Day Gift Boxes NZ.  Valentine's Gift Boxes NZ.  Luxury Gift Boxes NZ.  Christmas Gift Boxes NZ.