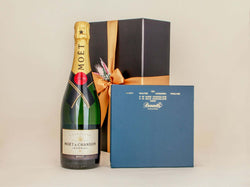 Moet & Chocolate Gift Box
Moet and Chandon Champagne perfectly combined with a box of Premium 16 Crispy Salted Caramel Praline Bennetts of Mangawhai Chocolate.
Packaged in: Premium Black Wine Box and Ribbon
--
If an item in this gift set becomes unavailable, we will replace it with another item of equal or greater value which matches this gift set theme.
Sending Gift Boxes NZ Wide.  Champagne Gifts.  Alcohol Gift Boxes NZ.  Luxury Chocolate Gifts.  Wedding Gift Boxes nZ.  Celebration Gift Boxes NZ.  Birthday Gift Boxes NZ.  Christmas Gift Boxes NZ.