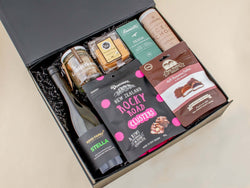 Send a sweet symphony gift box of chocolate overload, meticulously paired with a delectable glass of wine or bubbles. It's a harmonious blend of luxury and sweetness, creating an unforgettable indulgent experience.
Features:
Bottle of Wine or Baileys

Potter Brothers Jellies in Milk Chocolate

Donovans Rocky Road Clusters
The Confectionist - Handmade Hazelnut & Chocolate or Almond & Chocolate Toffee

36 Degrees Handmade Fudge 

- 

*GF
Bennetts of Mangawhai Chocolate Bar - *GF (Or personalize your gift by swapping this out with a decadent

 

Bennetts Milk Chocolate Message Bar)
Purecoco Iced Choc or Iced Latte Drink - *GF *V
Packaged in: A premium black gift box
NOTE:
Do you need this gift to be entirely Gluten Free or Vegan?  Make a note on your order and we will replace products for suitable/same-value required dietary food products.
--
If an item in this gift set becomes unavailable, we will replace it with another item of equal or greater value which matches this gift set theme.
Note: Message Chocolate Bars - *GF
*GF = Gluten Free
Chocolate & Wine Gift Box.  Chocolate Gift Boxes NZ.  Mothers Day Gift Boxes NZ.  Fathers Day Gift Boxes NZ.  Birthday Gift Boxes NZ.  Valentine's Gift Boxes NZ.Christmas Gift Boxes NZ.  Sending Gift Boxes NZ Wide.  Christmas Gift Boxes NZ.  Congratulations Gift Boxes NZ.  Sympathy Gift Boxes NZ.  Get Well Gift Boxes NZ.