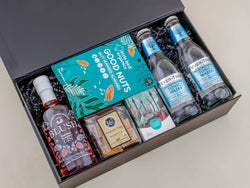 A light-hearted gift of Gin and Gin Rummy.  The perfect gift to share over a night of cards.
Personalize your gift by adding a decadent Bennetts Milk Chocolate Message Bar.
Features:
Bottle of NZ Made Blush Gin 250ml

Two premium bottles of Fever-Tree Tonic Water
36 Degrees Handmade Fudge - *GF

Organic Salty Almond or Chipotle Cashew Nuts - *GF *V
Deck of NZ Scene Cards
Packaged in: A premium white or black gift box

--
If an item in this gift set becomes unavailable, we will replace it with another item of equal or greater value which matches this gift set theme.
Note: Message Chocolate Bars - *GF
*GF = Gluten Free
*V = Vegan Friendly
Sending Gift Boxes NZ Wide.  Gin Gift Box.  Birthday Gift Boxes NZ.  Celebration Gift Boxes NZ.  Mothers Day Gift Boxes NZ.  Sending Luxury Gift Boxes NZ Wide.  Alcohol Gift Boxes NZ.  Christmas Gift Boxes NZ Wide.