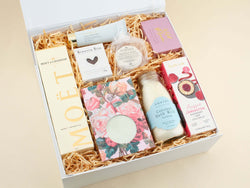 Pamper someone in luxurious style with All About You! Our gift box includes everything they will need for some special "me-time", from indulgent bubbles and a luxurious pamper to a moment that's all about them. Let them enjoy the perfect treat and get ready to relax!
Features:
Choice of Veuve du Vernay or Moet 200ml
Living Light Bath Bar
Aromatherapy Facial Steam or Clay Mask
Essentially Tamara Shower Bomb
Anoint Rose Bath Salts or Coconut Bath Milk
Living Light Hand Creme - *V
Health Lab Lamington or Hazelnut Balls - *GF, *V (Personalize your gift by swapping out for a decadent

 

Bennetts Milk Chocolate Message Bar)
Chocolate Fudge Brownie

Packaged in: A premium white or black gift box
NOTE:
Do you need this gift box to be entirely Gluten Free or Vegan?  Make a note on your order and we will replace products with suitable/same-value required dietary food products.
--
If an item in this gift set becomes unavailable, we will replace it with another item of equal or greater value which matches this gift set theme.
Note: Message Chocolate Bars - *GF
*GF = Gluten Free
*V = Vegan Friendly
Sending Gift Boxes NZ Wide.  Valentine's Gift Boxes NZ.  Mothers Day Gift Boxes NZ.  Birthday Gift Boxes NZ.  Pamper Gifts NZ. Luxury Gift Boxes NZ.  Gifts for Her.  Christmas Gift Boxes NZ.