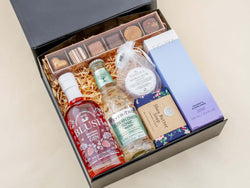 Elegant and indulgent Gin Gift Box.  A beautiful gift to show someone special that you care.  A Gin Affair is the perfect way to treat a loved one. Crafted in NZ with Gin Gin, this luxury pamper gin is guaranteed to delight the senses. Make any occasion special with this impressive selection of carefully-selected products!
Features:
Bottle of NZ Made Blush 100ml OR 250ml

Premium Fever-Tree Elderflower Tonic Water
Colestown Handmade Rose Gold Box of Chocolates - (Personalize your gift by swapping this out for a decadent

 

Bennetts Milk Chocolate Message Bar).
Anoint Skin Care Shea Butter Soap Bar

Essentially Tamara Shower Bomb


Ecoya Hand Creme - Coconut & Elderflower, Sweet Pea & Jasmine or French Pear
Packaged in: A premium white or black gift box

--
If an item in this gift set becomes unavailable, we will replace it with another item of equal or greater value that matches this gift set theme.
Note: Message Chocolate Bars - *GF
*GF = Gluten Free
Gin Gift Box.  Gin Gift Boxes NZ.  Gifts for Her.  Birthday Gift Boxes NZ.  Mothers Day Gift Boxes NZ.  Valentine's Gift Boxes NZ.  Christmas Gift Boxes NZ.  Sending Luxury Gift Boxes NZ Wide.